NEFF Warming Drawer Repair
Wash Tech specialise in NEFF warming drawer repairs with five-star customer satisfaction.
Our vans carry a broad range of authentic NEFF replacement parts for your NEFF appliances.
If your NEFF warming drawer breaks down or develops a fault, we've made the repair process as quick and hassle-free as possible.
You can easily book a repair online or over the phone by calling 0330 205 0220.
Why Choose Wash Tech?
We pride ourselves on having unparalleled expertise in NEFF warming drawer repair and maintenance.  We repair 99% of faults on our first visit and, if a second visit is needed, there is no additional charge for labour.
NEFF Specialist
Over 30 years of experience
Large range of spares
Fast, affordable callout
Fixed one-off labour charge
Fully insured
6-month guarantee on all parts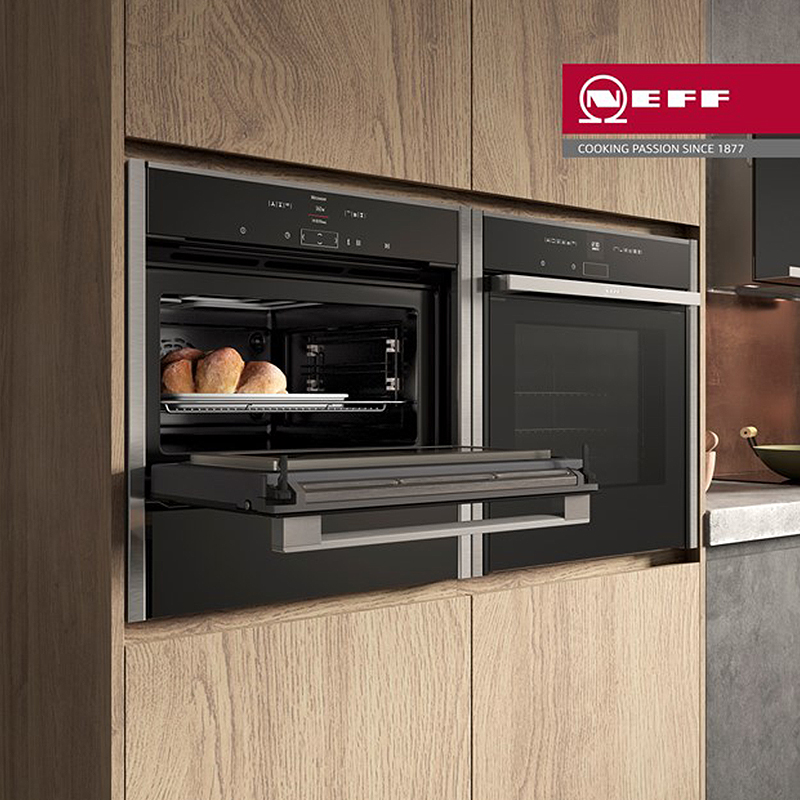 There are many good reasons for choosing NEFF.
Here are just six of them.
Since 1877, NEFF has been on a mission. NEFF set out to develop ideas which are exactly what enthusiastic cooks are looking for. Their range of products are ideal for anyone who enjoys creating great food together with family and friends. NEFF home appliances are designed to inspire your kitchen creativity. NEFF appliances are continually tweaked, innovated and perfected to ensure their products are at the centre of every kitchen.
The Wash Tech Difference
As NEFF oven repair specialists, Wash Tech have garnered five-star customer reviews from the independent review centre.
Our experienced engineers can quickly diagnose both common and uncommon appliance faults, and we carry a myriad of authentic replacement parts. That's why we can repair 99% of machines on our first visit.
Book a repair online or call us on 0330 205 0220.
Over the years, our service has evolved to become as streamlined and hassle-free as possible. If you require an appliance repair, you can book a repair online or over the phone, specifying a day and timeframe which is convenient for you.
We provide transparent and flat-rate pricing and have the technology and the know-how to repair your appliance as quickly and conveniently as possible.
For added peace of mind, any replacement parts come with a six-month guarantee.
Case Study
★★★★★
Kate contacted us about her home appliance repair needs when an issue occurred with her Neff warming drawer. She chose Wash Tech because of our fast response time. One of our engineers serviced and repaired her warming drawer within 48 hours of booking a repair online, Kate told us that the warming drawer was back in full working order thanks to our team. In addition to our repair service, our expert team gave sound advice on how to maintain her home appliances in the future.
Kate was extremely impressed by the engineer who was professional and took his time to explain what the problem was and how we were going to fix it. Kate said she felt she paid a fair price for the repair service and trusted our knowledge.
*The name of this customer has been changed to protect client confidentiality.

Locating Model Numbers
When you book a repair, either online or over the phone, it's helpful for us to know the model number of your appliance. This information will allow us to pre-asses you repair and, if necessary, bring the correct replacement part when our engineer visits.
Washing machine model numbers are usually located on the inside of the door.
For tumble dryers, the model number should be located on the inside of the door. In some cases, this may have become faded or fallen off, in which case don't worry.
For dishwashers, the model number should be printed on a sticker on the right inside edge of the door. If you can't locate the model number, just provide us with as much detail as possible.
On ovens, you can find the model number on a sticker at the base of the oven behind the door.
NEFF Repair Prices
Repair price starts from £59.95, which is a one-off flat labour fee. This price does not include replacement parts (if required). You can book an engineer's visit by calling 0330 205 0220 or using the form on this page.
Need to replace your appliance?
The Wash Tech warehouse carries a wide range of NEFF appliances, both new and refurbished. Call us on or speak to one of our engineers.

Service Areas
Our engineers perform appliance repairs across central England including Worcestershire, Herefordshire, Gloucestershire, Birmingham, and Oxfordshire. You can see a full list of counties we service on our coverage page. Alternatively, view the map below.
The easiest way to see if there are engineers in your area, and to check if we support your brand of appliance, is to fill out the online booking. It only takes a few seconds and the form will automatically tell you if your area and appliance is covered.
Repairs can be booked online or over the phone by calling 0330 205 0220.